Culinary delights at Restaurant Chiparus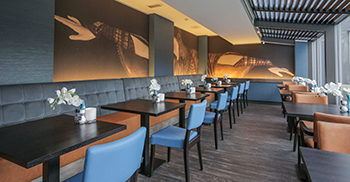 The culinary heart of Fletcher Hotel-Restaurant Leidschendam is à la carte restaurant Chiparus. Demetre Chiparus (1886-1947) was one of the most famous sculptors of the Art Deco movement, and his main interest lay in creating small bronze and ivory sculptures. His style is a source of inspiration for our kitchen staff.
In the restaurant, with its open-plan kitchen, the head chef and his kitchen team are passionate about preparing tasty dishes for you. You can enjoy fine, wonderful cuisine in an atmospheric ambiance. The kitchen team combine products and cooking methods from around the world with the principles of classic French cuisine.
Restaurant Chiparus offers seasonal menus, an à la carte menu and surprise menus, all of which are prepared using fresh and seasonal produce. The restaurant is open daily and there you can enjoy a delicious breakfast, lunch or dinner. If you need anything, our staff will be happy to help. If you fancy a glass of wine, our staff will gladly advise you on the best combination. Come and see for yourself!